Tomorrow starts the racing big time here in Belgium. The first stage of De Panne is 200k starting from the coast and coming inland. It's mostly flat the first half, then we finish with three circuits with lots of hills and a 2.5k stretch of cobbles.
We rode the circuits a few times the last two days and it's about as you'd imagine: rolling hills, super narrow, twisting roads, and of course, short, steep climbs. Many of the roads are shared with other big races. There are city signs showing the Tour of Flanders route, and race signs still up from Saturday's E3 Harelbeke. We're staying not 10k from the Koppenberg and the Kwaremont, and will go over the Kemmelberg on stage 2.
I have to say I was surprised how hard it is to ride the cobbles. The closest thing I can compare it to is riding on the rumble strips along some highways. Basically, like riding through mud with square wheels. I honed the technique a bit and it got better, but still you basically just have to go flat stick the whole time and let the bike do it's thing underneath you. And it's unbelievably better just hopping onto the dirt path next to the road.
The cobbles we do aren't all that bad though, it's a wide road, just gently rolling, and in pretty good shape. The weather is also supposed to be nice and sunny tomorrow, so that will greatly improve our quality of life.
On the equipment side things are pretty standard. We're all riding the standard Boardman AiR 9.8 aero bike, minus Jonny who's too cool for school and went for the SLR bike. Normal gearing, 45mm Enve carbon wheels and Maxxis clinchers. Most of us have either double-wrapped tape or the new Evo Curve bars from Ritchey with a 31.8 cross section all the way to the hoods, and we're using 25c tires (Re Fuse rear and Colombiere front) instead of our normal 23c Cormets.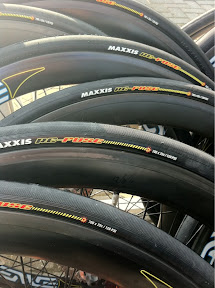 Everything else is picking up fast. We have two mechanics (Bernard and Jorge) who just drove in last night from Italy, and three Sougnieurs also straight in from Coppi e Bartali (Benny, Jeremy, and Miha). We were also reunited with our helmets, very welcome now that we're doing race-pace practice runs on the cobbles. And we just met our euro box truck, which our ass of a neighbor can't stop loitering around.
So think good thoughts tomorrow, we're expecting a baptism by fire but feeling good about it. You can also most likely watch a live stream of the last 50k or so from either Steephill.tv or cyclingfans.com. One day at a time...